Do all patients with ACL injury need surgery?
Not all patients with ACL injury need surgery. You may choose not to have surgery if you:


Have a minor tear in your ACL (a tear that can heal with rest and rehabilitation).


Are not very active in sports and your work does not require a stable knee.


Are willing to stop doing activities that require a stable knee or stop doing them at the same level of intensity. You may choose to
substitute other activities that don't require a stable knee, such as cycling or swimming.


Can complete a rehabilitation program that stabilizes your knee and strengthens your leg muscles to reduce the chances that you will
injure your knee again and are willing to live with a small amount of knee instability.


Do not feel motivated to complete the long and rigorous rehabilitation program necessary after surgery.

How is ACL injury treated non-operatively?
Conservative treatment of an ACL injury involves:


Rest - from sports or heavy work


Ice pack - to reduce swelling and pain


Anti-inflammatory medications – reduce pain and inflammation. Allow patients to tolerate physiotherapy


Strength – all muscles around the knee must be strengthened especially the hamstrings. These muscles can then take over some of
the ACL's role in knee stability.


Balance and proprioception - as the ACL has an important role in providing information to the muscles and brain about the position of
the knee joint, specific re-training of other nerves is performed to help compensate.


Functional Knee Braces are may also be prescribed to help patients with damaged ACL's. Their benefits are not fully understood
although they may help with proprioception. They are expensive and may not provide much in the way of support to knee stability.

When is surgery recommended in ACL injury?
ACL reconstruction is recommended when you:


Have completely torn your ACL or have a partial tear and your knee is very unstable.


Have gone through a rehabilitation program and your knee is still unstable.


Are very active in sports or have a job that requires knee strength and stability (such as construction work), and you want your knee to
be as strong and stable as it was before your injury.


Are willing to complete a long and rigorous rehabilitation program.


Have chronic ACL deficiency that is affecting your quality of life.


Have injured other parts of your knee, such as the cartilage or meniscus, or other knee ligaments or tendons

Why is ACL surgery recommended?
A knee with torn ACL has abnormal mobility of the tibia during normal activities and sports. This causes secondary damage to the joint cartilage and the meniscal tissues. Damage to the joint cartilage leads to knee arthritis at a younger age.
The goal of ACL surgery is to:


restore normal or almost normal stability in the knee


return you to the level of function you had before the knee injury


limit loss of function in your knee


prevent injury or degeneration to other knee structures.

What is ACL reconstruction?
ACL reconstruction is the commonest ligament reconstruction performed around the knee. ACL reconstruction is a surgical attempt to replace the stabilizing function of the anterior cruciate ligament. It involves removing the remains of the damaged ACL and replacing it with another form of soft tissue, called a graft.
A number of grafts are available for use to replace the ACL. The two commonest graft techniques are to use two "hamstring tendons" – the semitendinosus and gracilis muscle tendons – or a so called BTB (bone tendon bone, or patella tendon graft).
This surgery can be done by open technique or by arthroscopically (through key holes) using telescope, camera and specialized instruments.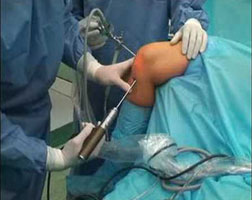 Dr. Anand Jadhav performs all ACL surgeries arthroscopically because it offers:


Excellent visualization of structures in the knee joint


Tiny scars offer better cosmetic results


Minimal tissue damage and bleeding


Less pain


Early rehabilitation


Shorter hospital stay

What are the benefits of ACL surgery?
There is a 90 to 95% chance of a good result in patients who are having the operation for appropriate reasons and who comply with rehabilitation (6-9 months), These patients have good muscle strength , knee stability and a painless range of motion. Patients can return to their pre-injury occupation or sports.

What is done during ACL reconstruction?
This operation is done under general, spinal or epidural anesthesia. A tourniquet is applied on the upper thigh in order to provide bloodless operating field.
Diagnostic arthroscopy is performed through two tiny key-holes on either sides of lower portion of knee cap.
Any meniscal or cartilage injuries are dealt with.
The remnants of the torn ACL (stumps) are cleared with shavers from the femur and tibia.
Sites for inserting new ACL at tibial and femoral ends are clearly identified and marked.
Hamstring tendon grafts (semi-tendinosis and gracilis) are harvested through a small incision on upper part of leg.
The quadruple configuration graft is prepared and its diameter and length noted.
Tibial and femoral bone tunnels of matching diameters and desired lengths are drilled with help of special guides.
The hamstring graft in now pulled into the knee joint through the tibial tunnel and then further upwards through the femoral tunnel.
The femur side graft fixation is done either with an endo-button (a suspension device) or a metallic or absorbable screw. The graft is then tensioned with a special device to remove any slack during graft preparation.
The tibial side fixation is done with either a metallic or absorbable screw.
| | |
| --- | --- |
| | |
| Arthroscopic view of complete ACL tear | Graft replacing ACL |
The new ACL is now checked for its position, tension, fixation strength and any signs of impingement against any bony part in the knee.
The wounds are closed and pressure pads are applied.
A hinged knee brace is applied.

When can I start walking or moving the knee?
Patients can start walking or moving the knee on the same day of the operation or the next day. They usually need the help of elbow crutches or a walker initially to help in mobilization. You will be given instructions about the type of exercises to be done for the next 3 months. These exercises will be monitored weekly by our physiotherapist. My team will guide you through your recovery period.

How long will I need to use crutches?
2- 4 weeks depending on your progress.

How Long I need to stay in hospital?
Your hospital stay will be 1-2 days

How long do I need to use the brace?
You need to use the knee brace for 4-6 weeks depending on your progress

When are the sutures removed?
The sutures are removed 10-12 days after the surgery.

When can I go back to work?
For office-type jobs you can return to work after 2 weeks and for other heavy intensity jobs after 3 months, provided the progress is satisfactory.

When can I drive a car or ride a motor-bike?
You can drive a car after 4-6 weeks and ride a motor-bike after 6-8 weeks. Your knee should be pain-free with good range of motion, strength and stability.

How long do I have to continue physiotherapy and why?
I recommend that you continue physiotherapy for a minimum of 3 months to regain normal range of knee motion, good muscle strength and sense of stability (proprioception) in the knee joint. Patient are then encouraged to continue their rehabilitation further for 6-9 months in a step-wise manner to gain maximum benefits from the ACL reconstruction.
Patients who comply with rehabilitation have a very high chance of a good result. Stability is restored and the patient can undertake most of the normal activities, including sports.

When can I resume normal sporting activities e.g. play football?
Generally any sort of sporting activities are restricted for 6-9 months. Full intensity sports are allowed after 9 months of rehabilitation.

Are there any risks associated with ACL Reconstruction Surgery?
Like any other surgical procedure ACL Reconstruction has following risks:
The risks of any anesthesia are:

Allergic reactions to medicines


Breathing problems
The risks of any surgery are:

Bleeding


Infection
Additional risks of this surgery are:

Stiffness of the knee


Failure of the ligament to heal


Failure of graft fixation devices


Pain in the knee


Weakness of the knee


Blood clot in the leg


Injury to a nearby blood vessel, nerves or tendon


Numb area on outer side of knee


Difficulty with kneeling


Fracture of patella if patellar tendon graft is used.


Rupture of new ligament if knee is injured again.