How an Acute Shoulder Dislocation is generally treated?
After confirming shoulder dislocation by clinical examination and x-rays, the patient is given sedation or a general anesthesia to relax the muscles around shoulder region. With the help of an assistant the doctor will give gentle traction and manipulate the arm to relocate the shoulder joint. This is called closed reduction. X-rays are done again after reduction to confirm that the joint is in place.
Patient's pain is immediately relieved after shoulder reduction. A shoulder sling is given for support and comfort. The sling is to use for 2-4 weeks.
On discharge from the hospital, the patient is advised to see a physiotherapist and a Shoulder Specialist for follow-up.

What are the chances of developing Recurrent (repeated) Shoulder Dislocations?
Recurrent dislocations are most common in young people, athletic people and those involved in heavy physical activities.
The younger and more active the patient is at the time of first dislocation, the more likely it is that recurrent instability will develop. For example, if the first dislocation occurs during the teenage years, there is a 70-90% chance that recurrent instability will develop. However, people over 40 years of age with a first dislocation have less than a 10% risk of developing recurrent instability.

What causes Chronic Shoulder Instability?
Chronic shoulder instability is caused by:

Traumatic shoulder dislocation:
The labrum, which deepens the socket, is torn and the capsular ligaments, which hold the shoulder ball in its socket, become stretched or torn. As a result the necessary stability of the ligaments throughout the shoulder's large range of motion is compromised.

Repetitive overhead activities: (as seen in sports like Swimming, tennis, and volleyball) can stretch out the shoulder ligaments due to chronic overloading. Similar things happen to people in jobs needing repetitive overhead work. These loose ligaments cannot support the humeral head within the socket. Such patients will develop shoulder instability and pain when doing repetitive stressful activities.

Multidirectional Instability:
In a small group of patients, the shoulder can become unstable without any history of injury or repetitive strain. These patients have naturally loose ligaments throughout the body and may be "double-jointed." The shoulder can dislocate in many directions. Hence it is called Multi-directional instability (MDI). Such patients can produce a shoulder dislocation (voluntarily) at will without pain.

What are the symptoms of Chronic Shoulder Instability?
Common symptoms of chronic shoulder instability include:


Pain caused by shoulder injury


Repeated shoulder dislocations


Repeated instances of the shoulder giving out


A persistent sensation of the shoulder feeling loose, slipping in and out of the joint, or just "hanging there"

How is shoulder Instability Diagnosed and treated?
A thorough history and clinical examination is done initially to diagnose instability.
Investigations like x-rays and MRI of shoulder are done to confirm the underlying pathologies.
X-rays will show fracture of rim of glenoid – Bony Bankart's Lesion, Impaction fracture of humeral head - Hill Sach's lesion
MRI will show: Rotator cuff tears, lesions of biceps tendon, Avulsion of labrum and capsular ligaments from the glenoid - Soft tissue Bankart's lesion, capsular avulsion from humerus
| | |
| --- | --- |
| | |
| MRI showing Bankart lesion (arrow) | |
CT scan may be required in cases where damage to the glenoid is noted on x-rays.
Treatment for shoulder instability is based on a variety of factors including the severity of the condition, and the patient's age, activity level, occupation, and natural degree of looseness in the joint.
Initial treatment for any shoulder instability relies on physiotherapy, activity modification and pain-killers as required.
Strengthening the rotator cuff muscles and periscapular muscles (those around the scapula) gives stability to the joint. The goal of physiotherapy is to help the muscles provide stability to the shoulder that the torn ligaments are not able to provide. The physiotherapy is carefully designed for each patient since this condition often causes apprehension about certain arm positions or exercises. Often physiotherapy can help regain lost motion, reduce apprehension, and restore shoulder function.
Changes to lifestyle and modification of activities are necessary to avoid repetitive stress to the shoulder and to resolve symptoms.

When is surgery advised in Shoulder Instability?
Surgery is usually recommended if recurrent instability cannot be controlled even after adequate physiotherapy and activity modification.
Surgery is recommended after the first dislocation in young persons (< 20 years) who have a higher risk of re-dislocation, in contact athletes who plan on continuing to participate in sports that put their shoulders at risk and in people involved in heavy physical activities.

What are the benefits of Shoulder Stabilization Surgery?
The shoulder becomes stable which improves patients' confidence, shoulder strength and function. The stabilization surgery allows them to return to normal work or sporting activities. It also prevents further damage to the surfaces of ball and socket due to repeated instability.

What is done in stabilization surgery for Shoulder Instability?
Shoulder instability surgery is a surgical attempt to reconstruct the normal shoulder anatomy by repairing the torn cartilage ring (labrum) and re-tensioning the stretched capsular ligaments without over tightening. The aim of surgery is to return stability to the shoulder with the least loss of motion.
Depending on the extent of damage to the labrum, 2 to 3 suture anchors ( metallic or biodegradable) may be buried at different locations on the rim of glenoid (socket). Non-absorbable sutures that are pre-loaded on these anchors are then tied to repair the labrum to its normal place and to re-tension the capsular ligaments.
Surgery will re-create the normal bumper effect of the labrum and the tension of capsular ligaments. This will help in keeping the joint in place throughout its normal range of motion.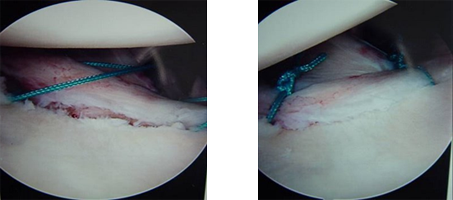 Torn Labrum (Bankarts Lesion) being repaired with suture anchors

What are the advantages of arthroscopic shoulder stabilization?
Arthroscopic shoulder stabilization is done using a fibre-optic telescope, camera and specialized instruments via 3 to 4 tiny scars.
It has the following advantages:


Small scars give better cosmetic result


Minimal tissue trauma and pain


Less bleeding


Shorter hospitalization


Excellent visualization of shoulder joint and the associated lesions of instability


Additional shoulder pathologies like rotator cuff tears or biceps tendon lesions can be dealt within the same operation


Can give same success rate as that with open stabilization surgery

When is open shoulder stabilization recommended?
It has the following advantages:


There is co-existing fracture of the socket (glenoid) or humeral head


Glenoid is worn out into an inverted pear shape due to recurrent anterior instability


Failure of previous shoulder stabilization surgery


Surgeon is not experienced in arthroscopic stabilization techniques


Tissue transfer with bony block – done if capsular tissue is not repairable